Flooding is the most destructive natural disaster in Utah. Flooding is the covering or submerging of normally dry land with a large amount of water and includes long-term rainfall events, spring snow melt river flooding, flash flooding, and dam break flooding.
Utah has been tracking historical flooding events since the 1800's. Between 1996 and 2017 there were 931 flood events, 799 of those were flash floods. Base Flood Elevation (BFE) is the rising of the water surface resulting from a flood that has a 1% chance of occurring in any given year. Risk is calculated for a 25, 50, 100 and 500 year flood event for the water year that starts October 1st and runs through September 30th.
Floodways encompass stream channels and the adjacent floodplain that must remain clear to permit the passage of water. Riverine or fluvial flooding is the most common and occurs when a river exceeds its capacity and overflows its banks gradually or in a flash flood event. Alluvial fan flooding is characterized by high-velocity flows.
In Utah, each local government assesses their own flood vulnerability and calculates their potential losses in a flood event relative to people, residential units, commercial units, and critical facilities. Grant, Iron, Garfield, Washington and Kane counties ranked themselves as having the highest flood risk in the state. Salt Lake, Tooele, Cache, Davis and Weber counties reported the most people at risk of flooding. Washington County reported the highest residential units at risk for floods and Box Elder, Cache, Iron, Salt Lake, and Tooele all reported over a million dollars in residential units at risk to flood hazards. Iron County reported the highest number of commercial units vulnerable to flooding at 345, while Salt Lake had the highest valuation of buildings and four other counties had valuations over a million dollars. Box Elder County reported they have 64 critical facilities at risk to flooding, the highest in the state.
Only 25 properties in Utah are repetitive losses and local jurisdictions are tasked with monitoring and remediating those properties. Utah floodplain laws were drafted in partnership with national, state and local building codes. FEMA sets a basic standard of regulations for communities participating in the NFIP, but NFIP ordinances and regulations are handled at the community level. Utah DEM and FEMA provide NFIP trainings to help prepare floodplain administrators to pass the Certified Floodplain Manager exam. Community visits by the State's Floodplain Manager throughout the year help to ensure ordinances are being implemented and flood risks are being mitigated. The Natural Resources Conservation Service (NRCS) funds flood mitigation projects annually through its Emergency Watershed Protection Program.
According to FEMA, Utah has 38 levee systems, four constructed by the United States Army Corps of Engineers (USACE) and 34 privately constructed. These levees impact 18,600 structures and 4% of Utah's population, none of Utah's levees are rated high-risk by USACE.
Utah has 220 communities participating in the National Flood Insurance Program (NFIP) and only Juab and Wayne counties don't participate in the state. Since 1978, Utah had had a total of 988 NFIP claims for a total payout of $6,181,129, one of the lowest in the nation. The Community Rating System (CRS) encourages floodplain management activities that exceed the minimum NFIP standards. Reduced insurance rates, qualification for other federal assistance programs, and no charge for technical assistance on designing some mitigation projects are just a few of the benefits of becoming a CRS community.
Approximately 8% of Utah's streams are currently mapped. The state is currently in the process of mapping floodplains and flood risk in all counties. Utah partners with the Utah Automated Geographic Reference Center (AGRC), the Utah Geological Survey (UGS), and uses FEMA CTP grants to acquire Lidar surveying technology to map the state.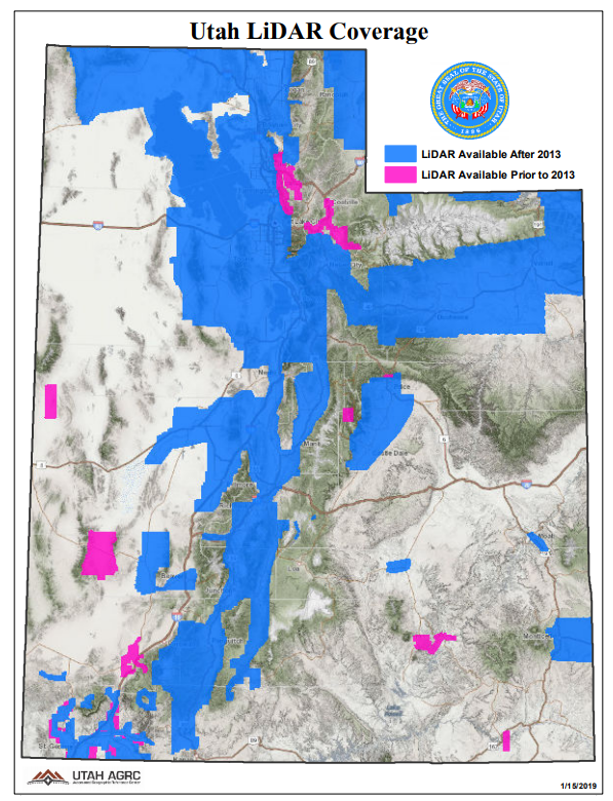 Twenty-one of Utah's 29 counties have HAZUS estimates exceeding a million dollars in annual direct economic losses. Three hundred and forty state-owned facilities fall in the A, V, or Shaded X flood risk zones with a total value of $859,701,341, but the entire state isn't mapped yet, so that number will increase as flood risk areas continue to be assessed in Utah.
Wildfire burn scars are a flood risk and drought conditions can also exacerbate flash flooding and mud and debris flows that can lead to soil erosion and long-term damage to healthy soil. Standing water from flooding presents several unseen hazards including electrical shock from downed power lines and the spread of disease as people wade through water contaminated from sewer overflows.
Changes in climate will likely increase Utah's flood risk as the state experiences more extreme precipitation events triggering flash flooding, monsoons during late summer to early fall in southern and eastern Utah, and runoff from rain falling on snow events, common with warming temperatures.
Read the entire flood chapter
2005 Santa Clara River flooding
In January 2005 a rain-on-snow event resulting from a stalled storm system brought abundant precipitation throughout the state of Utah causing severe flooding along the Santa Clara River in St. George that led to extensive damage to homes in the area estimated at $300 million dollars.
In the aftermath of this flooding event, St. George began taking steps to become one of Utah's 10 cities that have adopted the Community Rating System (CRS,) a program that encourages community floodplain management activities that exceed the minimum National Flood Insurance Policy (NFIP) standards. Depending upon the level of participation, flood insurance premium rates for policyholders living in a CRS community can be reduced up to 45%. Besides the benefit of reduced insurance rates, CRS floodplain management activities enhance public safety, reduce damages to property and public infrastructure, avoid economic disruption and losses, reduce human suffering, and protect the environment. Technical assistance on designing and implementing some activities is also available at no charge.
The Utah Division of Emergency Management in collaboration with FEMA provide classes and trainings annually to floodplain administrators throughout the state in preparation for the Certified Floodplain Manager exam. Community visits, CCO's, CAV's, and CAC's by state employees also help verify that communities are implementing ordinances and following them and providing mitigation strategies to at-risk areas throughout Utah. The Natural Resources Conservation Service (NRCS) funds many flood mitigation projects every year in Utah through its Emergency Watershed Protection Program.
Since 2014, the Utah Risk MAP Program, through FEMA CTP grants, has provided approximately $1,287,000 in LiDAR (laser surveying) acquisition funding to acquire areas within the counties of Salt Lake, Utah, Cache, Washington, Juab, Sanpete, Millard, Sevier, Piute, Garfield, Kane, Box Elder, and Weber. The state's goal is for 100% LiDAR coverage in collaboration with our Risk MAP partners with the Utah Automated Geographic Reference Center (AGRC) and the Utah Geological Survey (UGS) to provide funding and acquisition areas.