Changes in climate affects the composition of the Earth's atmosphere, leading to warming temperatures, changing precipitation rates, and new weather patterns. Greenhouse gasses like carbon dioxide, methane, and nitrous oxide trap the sun's radiation causing the earth's surface and air temperatures to rise. Temperatures have increased by approximately 1.8 degrees Fahrenheit since 1850. In Duchesne, average annual temperatures have increased from 43 degrees to nearly 48.
This warming trend amplifies the impacts of Utah's natural hazards, including avalanche, dam failure, drought, flooding, landslide, severe weather, and wildfire. Global climate models do not give a clear projection of how precipitation will change in Utah, but higher temperatures lead to drought, increased wildfire risk, and flooding from extreme precipitation.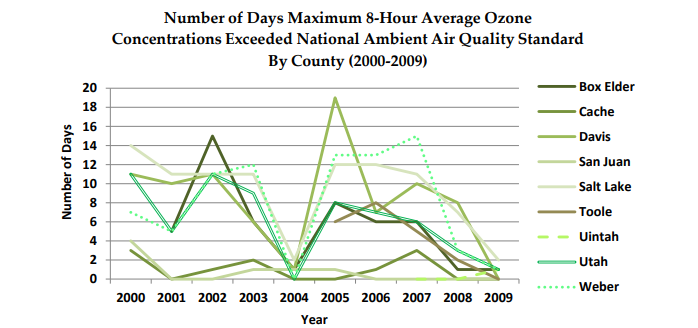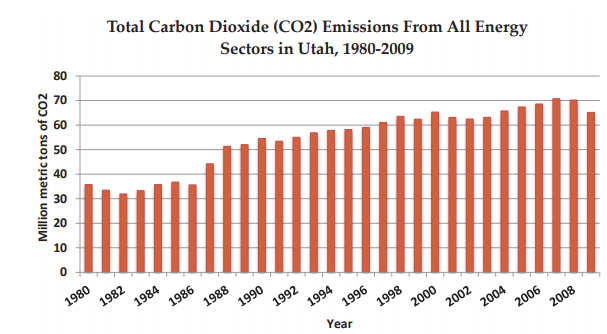 Some of the health impacts of climate change include higher rates of respiratory disease, increased asthma prevalence, and increased heat-related disease. Industries that are in danger of being affected by climate change in Utah include the ski industry, agriculture, and health care industry. A comprehensive climate change assessment needs to be conducted in Utah.
Read the entire climate change chapter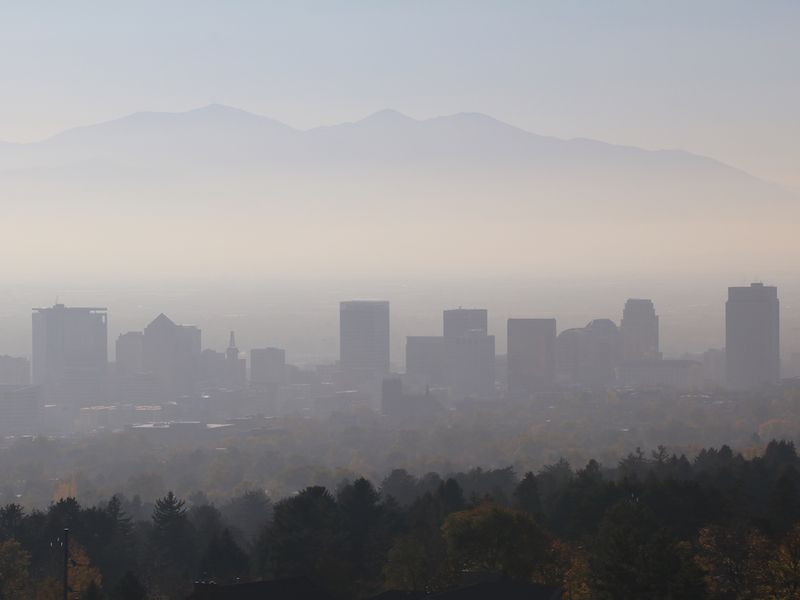 Salt Lake City skyline bad air day
It is likely that temperatures will increase through much of the twenty-first century, which will impact Utah's natural hazarding including drought, flooding, extreme weather, wildfire, landslide, avalanche, and dam failure.
Climate change will impact Utah's agricultural economy as increasingly hot temperatures impact the cattle's open grazing feed supply and stress livestock. Agriculture is 15% of Utah's economy and hotter summers and less reliable water will also affect what can be grown in arid Utah with an economic impact of $21 billion annually. A 2011 paper Ranching and Multiyear Droughts in Utah found that 75% of Utah ranch operations reported major reductions in water supply, forage, and cattle productivity.
In 2017 Park City Green completed a study assessing how climate change will impact their city and the skiing industry responsible for 20,000 jobs and $1.3 billion in revenue for Utah annually. The study suggests decreasing snow levels will hurt Utah's world skiing destination reputation because of a shorter ski season and less skiable terrain. The estimated losses by 2030 are $120 million
The serious health impacts from a changing climate and how it impacts Utahns have been documented in the Utah Department of Health & Climate Change and Public Health in Utah & plan.