Dams are constructed of soil, rock, or concrete. They store water for human consumption, irrigation, livestock water supply, energy generation, recreation, flood control, and the containment of pollution.
In the 1970's the Utah State Engineer began regulating non-federal dams in response to the Federal Dam Safety Act. In the 1990's that changed to include all federal dams, except those owned by the Bureau of Reclamation.
The responsibility for the maintenance and security of most of the U.S.'s 85,000 dams is private. Many are over 50 years old and need rehabilitation work. There are nearly 14,000 dams in the U.S. that pose a threat to populated areas. The potential consequences of dam failure Increases as developments are constructed downstream from dams.
The National Inventory of Dams (NID) has collected data on state regulated dams in Utah since 2009. The Utah Division of Water Rights has created a more comprehensive database of 6072 dams in Utah. Utah's Dam Safety Section established a hazard rating system (high, moderate, and low) that factors in size, height, volume and proximity to development and people. In Utah, 256 dams are ranked as high hazard. Salt Lake, Davis, Utah and Washington counties have the highest number of high hazard dams.
A vulnerability analysis looked at 17 criteria to assess dam failure risk and concluded Utah, Salt Lake, Weber, Sevier and Iron counties are at the highest risk in Utah. Counties with the most people vulnerable to dam failure are Salt Lake, Weber, and Tooele with approximately 195,000 people, 63,098 residential units valued at $11 billion, 7001 commercial units valued at 4.5 billion and 400 critical facilities.
Read the entire dam failure chapter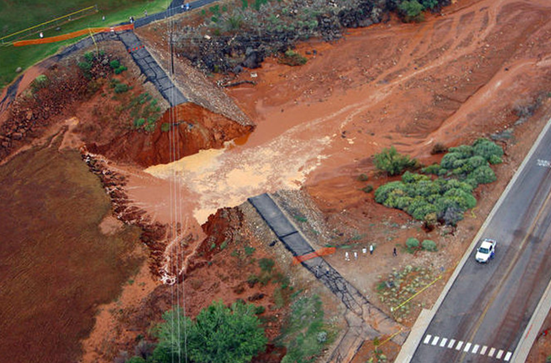 The Laub Detention Dam in Washington County, Utah failed on September 11, 2012 following a severe storm with heavy rainfall. Numerous homes, businesses, and roads were damaged but fortunately no lives were lost. A Presidential Disaster Declaration was declared for Washington County Utah on November 3, 2012. The Dam was rebuilt in 2013 and was renamed the Tuacahn Wash Lower Detention Basin.