Hazards caused by weather events such as lightning strikes, tornadoes, winter storms and extreme temperatures claim the lives of around 500 Americans annually. Risks can be mitigated through weather education and preparedness. In Utah severe weather has resulted in 225 deaths between 1950 and 2018.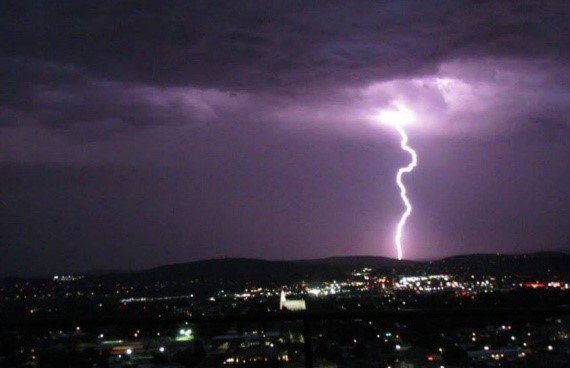 St. George lightning strike on Aug 3, 2017 courtesy St. George News
There are approximately 200,000 cloud to ground lightning flashes in Utah annually and lightning damage fire ignition, disrupting utilities, aviation, and transportation services. Since 1950, lightning has claimed the lives of 67 people in Utah, more than any other storm-related hazard, and an additional 161 people suffered lightning-related injuries.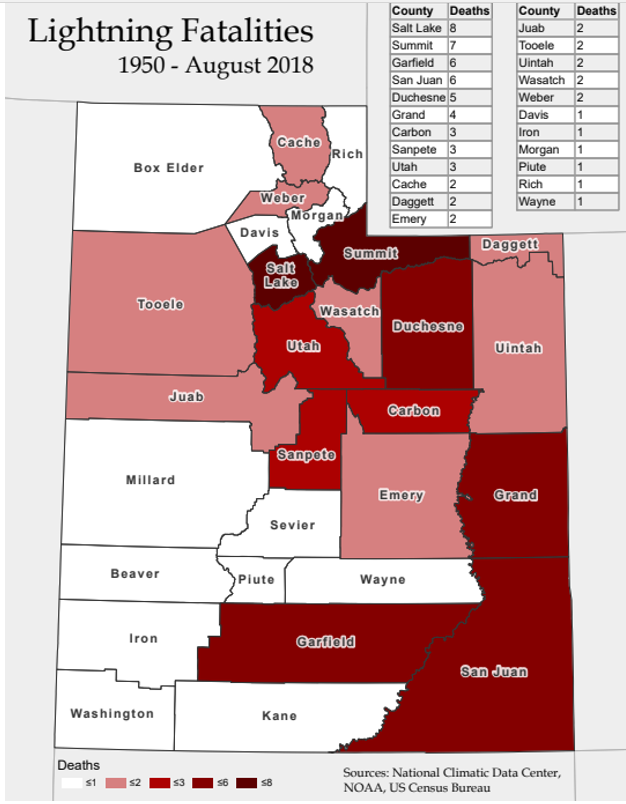 High winds can pose a hazard to property and can be life threatening. A wind event in November 2011 with winds exceeding 100 mph overturned semis on I-15, bent road signs, toppled trees and caused widespread power outages affecting 50,000 homes and businesses in northern Utah. Davis County had $3.5 million and Centerville had $8 million in damages prompting a disaster declaration. Since 1943 there have been 11 tornadoes F2 or greater in Utah. Convective weather including hail, winter storms, and extreme cold lead to fatalities 70% occur in automobiles and 25% are the result of people caught out in the elements. Fatalities are caused from traffic accidents due to icy roads, heart attacks brought on by the exertion of shoveling snow and hypothermia due to prolonged exposure to the cold. Twenty percent of the accidents incur in the home, primarily fires resulting from space heater fires, furnaces not properly ventilated, and carbon monoxide poisoning. Extreme heat is the leading weather-related killer in the US and particularly affects vulnerable people like the elderly, children, outdoor workers and agriculture. Heat events can lead to energy shortages but they do not qualify for emergency disaster declaration status.
Changes in Utah's climate and air pollution impact weather patterns as increasing temperatures are directly linked to rising greenhouse gas concentrations. A warmer atmosphere holds more water leading to more intense rainfall events. Changes in winter storm cycles affect precipitation patterns. Utah's Department of Environmental Quality tracks air quality in the state and attributes 48% of air pollutants to vehicle emissions, 39% from homes and buildings and 13% from industry. Utah's pollution reduction State Implementation Plan (SIP) proposes reducing emissions.
Severe weather mitigation efforts include early warning notices sent via television, radio, phone, social media, and freeway message boards, and wind engineering design and construction of buildings. The creation of statewide renewable energy goals include plans to develop low-cost non-fossil biodiesel fuels and efficient alternative energy sources like solar and wind power. Flood Insurance and homeowner's insurance allows individual home owners to mitigate their severe weather risk.
Read the entire severe weather chapter
1999 Salt Lake tornado damage
On August 11, 1999 a F2 tornado with winds up to 157 mph left a path of destruction across 4.3 miles of downtown Salt Lake City. The tornado tracked just east of the state capitol breaking windows, downing 500 trees and doing extensive damage to several state buildings in the capitol complex. Eighty people were injured and one killed in the 1999 tornado with damages exceeding $170 million.
All of the facilities in the tornadoes path shared an equal risk of being damaged by the severe winds, but updated hazard building codes that incorporated advances in science and engineering protected newer buildings.
Utah's vulnerability to severe weather and hazards places state assets and resources at risk and threatens Utah's economy because millions of people rely on state facilities and their continuity. To some extent, all of these facilities are vulnerable to severe weather. The level of risk is dependent on location, construction type, height and age. All of the state-owned facilities in each county in Utah and their total insured values exceed $24 billion. Counties at highest risk of loss from severe weather include Salt Lake, Cache, Utah, Davis, and Weber counties.