Utah is one of the most wildfire prone states in the U.S. There are 800 to 1,000 wildfires in Utah annually. In 2018, there were 1,327 wildfires in Utah with estimated damages of $13.4 million. Of those wildfires, 688 were human caused either accidental or incendiary and the remainder were naturally occurring.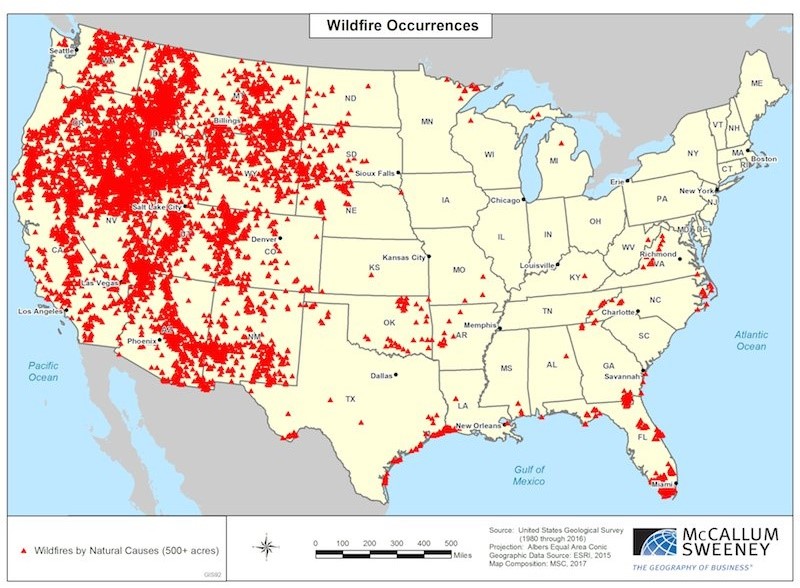 Before the colonization of North America wildfires burned 10 times the land that is consumed by fire today and were nature's way of maintaining a healthy ecosystem by regenerating forests and encouraging biodiversity including the evolution of many grasses, brushes and tree species currently found in Utah. A century of fire suppression and overgrazing has prevented low-intensity surface fires and increased the numbers of high-intensity crown fires.
There are three types of wildfires common in Utah: ground fires, surface fires, and crown or canopy fires. Between 1992 and 2012 the length of the fire season across the west increased by nearly six weeks and megafires burning more than 100,000 acres have tripled with 25 to 30 occurring annually in the U.S.
Vegetation, topography, weather, fuel sources, precipitation, and temperatures all impact wildfire proliferation. On average, years with greater spring rainfall typically have higher wildfire incidents after the vegetation dries out and becomes combustible material. Years of drought and dry conditions have caused high mortality rates in low elevation timer and shrubs contributing to wildfire conditions.
The State of Utah has compiled maps of wildfire risk by county, per capital, and by community. According to the Utah Division of Forestry Fire and State Lands (FFSL), 75% of Utah wildfires are extinguished before they exceed 10 acres and half are human caused and could be prevented. In 2016 FFSL developed a Utah Wildfire Risk Assessment Portal (UWRAP).
Wildfires damage the natural habitats of animal species and change the native vegetation to more fire resistant plants and grasses. They also destroy man-made structures, communication and electrical infrastructure, and destroy recreation and open spaces while increasing mudslides, erosion and downstream sedimentation that can impact fish habitats and water chemistry.
Utah's Catastrophic Wildfire Reduction Strategy was adopted by the state legislatures and signed into law by Governor Herbert in 2016. The vision, goals and objectives are to suppress wildland fires by improving wildfire response across all jurisdictions, restore and maintain landscapes, and develop fire-adapted communities where human population and infrastructure can withstand wildfire without loss of life and property. The creation of Catastrophic Fire Reduction Fund in Utah leveraged with funds from other federal, state and local programs as well as the private sector are helping fund 14 wildfire mitigation projects across all six regions of Utah.
Utah switched from a reactive wildfire suppression strategy to a proactive risk reduction strategy that became effective in 2017 with the legislative adoption of a new wildland fire policy between the FFSL and participating counties, municipalities and special service fire districts throughout Utah who chose to opt in. Every participating entity is required to create a community wildfire preparedness plan (CWPP) within two years of joining the system to help prioritize risk reduction projects for their jurisdiction or community. When wildfires occur, the participating entities join with the associated fire department to mount the best possible initial attack (IA) to control and contain the fire quickly. If the wildfire escapes the IA, the participating entity can transfer the fiscal responsibility to the state. When this delegation occurs, the incident will be managed in a unified command environment and the costs associated with the fire will be paid through the state fire suppression fund.
Read the entire wildfire chapter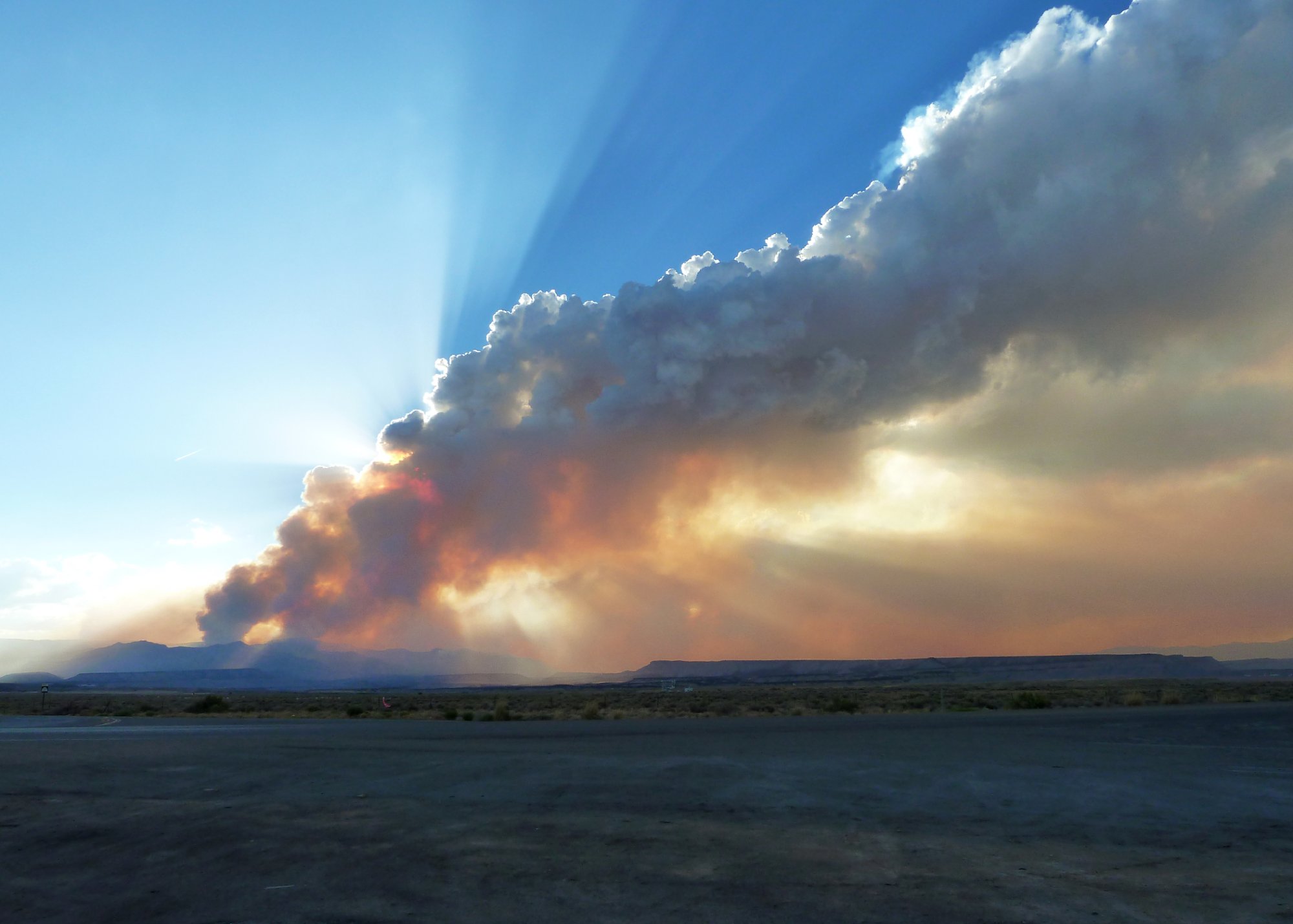 Seeley Fire near Emery County's Huntington Canyon 2012
During the summer of 2012, Utah had a particularly active wildland fire season. Fires throughout the state caused considerable damage to resources, infrastructure and personal property. Following this severe fire season, Governor Gary Herbert created the Catastrophic Wildfire Reduction Steering Committee tasked with developing a strategy to reduce the size, intensity, and frequency of catastrophic wildfires in Utah.
Utah lawmakers also authorized approximately $2 million of state funds to create a Catastrophic Wildfire Reduction Strategy that could only be utilized for implementation efforts, primarily fuels mitigation projects. Six regional working groups were established to assess risk and prioritize projects across Utah. As the program matures, the state will improve landscape resilience through fuels mitigation and prescribed fire projects, assist and educate human populations with preparing for and withstanding fire events, and continue to provide and improve timely and effective fire suppression response.
The Ready, Set, Go! (RSG) Program managed by the International Association of Fire Chiefs (IAFC) launched in 2011 to help fire departments educate residents in high risk wildfire areas to prepare their properties to mitigate fire hazards. The initiative is a personal wildland fire action guide for residents that correlates to the state's Firewise Communities Program and other wildland fire public education efforts. All growing counties in Utah are encouraged to follow FEMA's Firewise construction recommendations for all new development areas to minimize wildfire risk. The Firewise program assists neighborhoods to mitigate wildfire hazards. There are currently 28 Firewise communities in Utah.